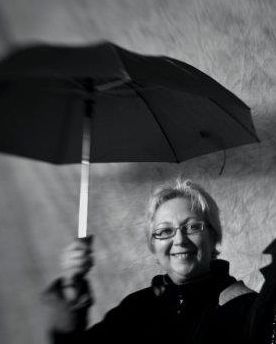 Linda Clowes Murray
Artist Statement - Let my art be inspired by, yet free from what I see around me. Let it take me to places I've never been before. Let my art evoke wonder at the mysteries of our planet and life itself. My art, like my art making practice is about discovery. The alluring push and pull of wet pigment on the surface, the intermingling of colors joining to make new hues in an ever changing kaleidoscope of shapes and textures, these are the things that keep me motivated to make art.
Writer Anais Nin once said, "We don't see things as they are, we see them as we are." My work must tell a story. A story that is open so that each viewer might unravel their own story when looking at the work. I like to think my paintings are meditations that tug at our feelings, drawing on memories and our unique consciousness.
Biography - Linda Murray is a water media artist living in West Gardiner, Maine. Her work has been exhibited in solo and group exhibits throughout New England and abroad, including the Arnold Arboretum, Boston, Ma; The Charles Danforth Gallery at the University of Maine, Augusta, Me; The Zullo Gallery, Medfield, MA; Bowdoin Colleges Smith Union, Brunswick, ME; Aucocisco Gallery, Portland, Me; Qasimsabti Gallery, Baghdad, Iraq and The Djiboutian Arts Institute/Institut Francais-Arthur Rimbaud, Djibouti City, Djibouti, Africa. She is represented by The Sharpe Gallery in Kennebunk, Maine. In addition, Murray's work is held in private and public collections in the United States and United Kingdom including the University of Maine in Augusta and the Cocheco Falls Millworks, Dover, New Hampshire. Linda has received many awards including second place in the New England Watercolor Society's regional juried exhibit in 2011.
Murray has a B.A. in studio art from the University of Maine in Augusta, Maine. She has also studied under watercolorists Carlton Plummer and Judy Wagner of East Boothbay and Florida. In 2001 she raised the funds to bring the Arts for the Parks to the University of Maine at Augusta. This marked the first time this traveling exhibit, supported by the National Park Service, had traveled to Maine. Her artwork has been featured in publications such as Models, Numbers and Cases, Still Point Arts Quarterly and Paintingand Painting in Acrylics The Indispensable Guide.
Murray teaches art in public and private venues and was awarded Enrichment Teacher of the Year by the Merrymeeting Adult Educational System in 2010. In 2004 she served as the first executive director of the Harlow Gallery, a non-profit gallery located in Hallowell, Maine.